Saturday morning after shopping, I was having my mid morning coffee,
and reading the blogs I follow.
I saw that
Ronelle
from
africantapestry
who writes and paints was
also having a mental block with her painting.
So I wasn't feeling so bad after reading that.
She describes this as losing her 'mojo'
Her post that day was vegetables.
ah - ha I thought !
I'd just emptied the shopping bag,
full of colourful fruit & vegetables onto the kitchen worktop,
and although I don't particularly like painting still life
the colours certainly looked tempting to paint.
As I'd been lacking ideas to re-start watercolour sketch painting,
and Ronelle who's style of painting I love
I thought this was an omen, I decided to get painting.
I'd recently been to a craft shop and bought a basic sketch pad,
thinking this will get me started again.
Then when I feel I've really got my interest back,
I can go back to using my Moleskine journal again.
Paints and palette all ready.
A nice fresh bunch of Radish, almost like a posy of flowers
just waiting to be painted,
and delicious as well.
Painting palette, not touched for so long, all the blobs of paint dried up.
but amazingly just a few drops of water brought most of them back.
After a wobbly beginning, I used my Micron pens
and then mixed a few different shades of green.
I roasted the Fennel with the potatoes, it was very tasty.
So thank you
Ronelle
for the vegetable sketch you shared.
and my followers who have been encouraging me
to do some painting. at least I've made a start.
When the weather improves
I'll get out and try some scenic views and buildings for a change.
I've joined an on-line painting course given by
who paints wonderful street sketches and snow scenes.
I'm hoping I'll learn something.
This is one of her paintings.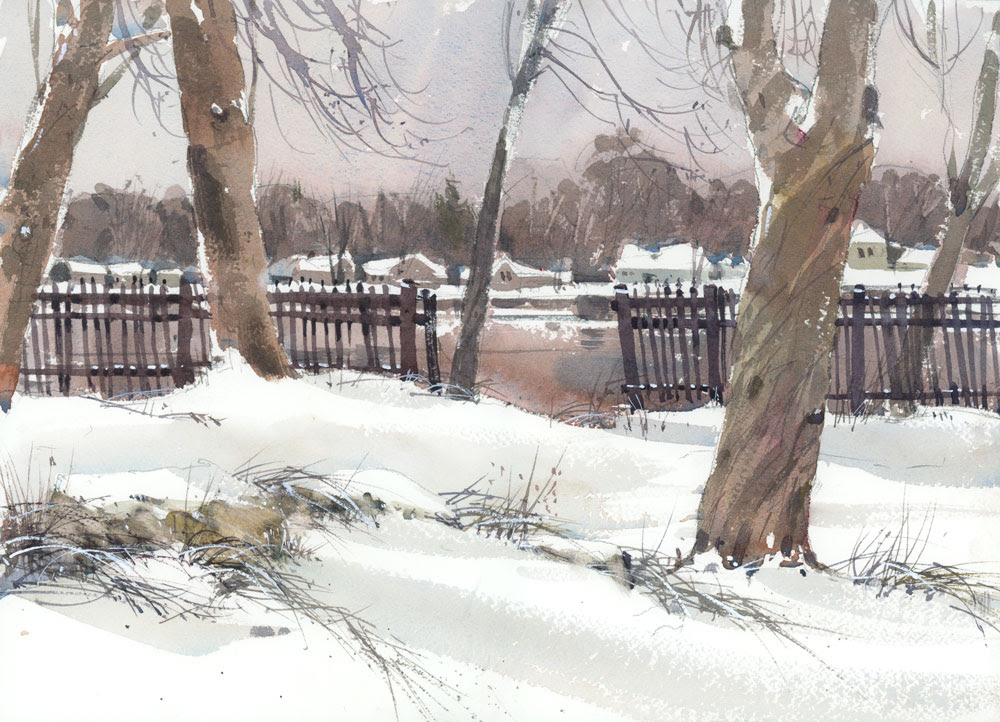 Winter snow scene by Shari Blaukopf
I'll be doing some (I mean a lot of ) practise lessons first,
before I show any of my efforts.
I'll say good bye
I hope you liked my sketches
and will come back again soon.